Kate Budd
Kate Budd received an MFA in Sculpture from Southern Illinois University at Carbondale. She is a Professor of Art at the Myers School of Art, The University of Akron where she has taught 3-D Design and Sculpture since 1998. Kate has received four Ohio Arts Council Individual Excellence Awards and her sculpture has been featured in exhibitions at the Akron Art Museum and Crystal Bridges Museum of American Art.
Kate's sculpture – very small bronze and gold-plated objects that reference the body and other organic forms – speak the language of fetishes or ritual objects collected and housed in museums, their original meaning or use long forgotten.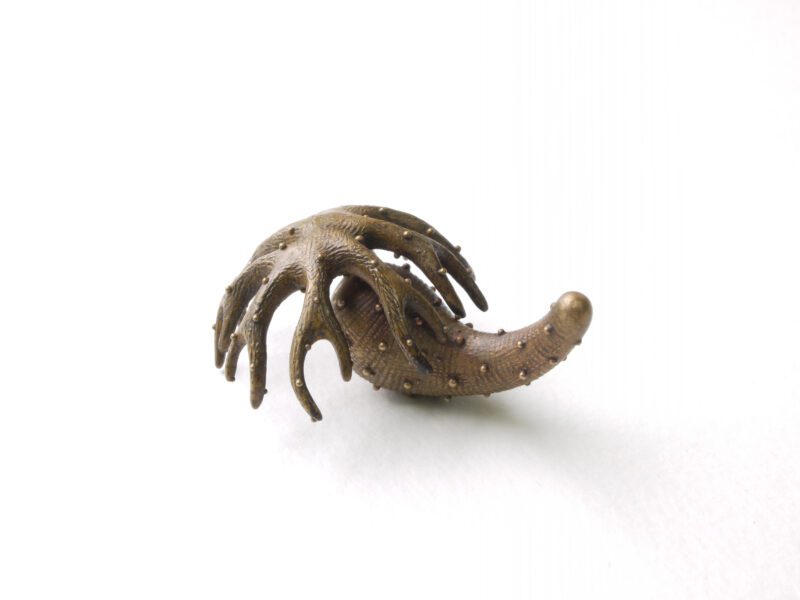 Fernando Cremades
Radiotropism: Exposure to ionizing radiation can cause serious diseases in humans and there is paucity of technologies available to shield radioactive sites. We are exposed to natural and man-made radiation, such as cosmic radiation, X-rays or small quantities of radioactive materials released to the environment from coal and nuclear power plants. On average we receive 3.7 mSv (1) per year (although in certain parts of the planet several tens of mSv are reached) by radioactivity.
In 2017 the first spore-spreader prototype was developed thanks to the support of the Government of Spain (INJUVE) and art institution Medialab Matadero. The device measures the gamma radiation with an integrated geiger counter and spreads out radiotrophic fungi spores when radiation levels are really high. New prototypes are under development exploring the remediation and monitoring functions that could be applied at nuclear power plants, nuclear waste storages and natural radiation sites. These devices could create a safer life for astronauts, first responders, healthcare workers, military, scientists, plant workers and cancer patients.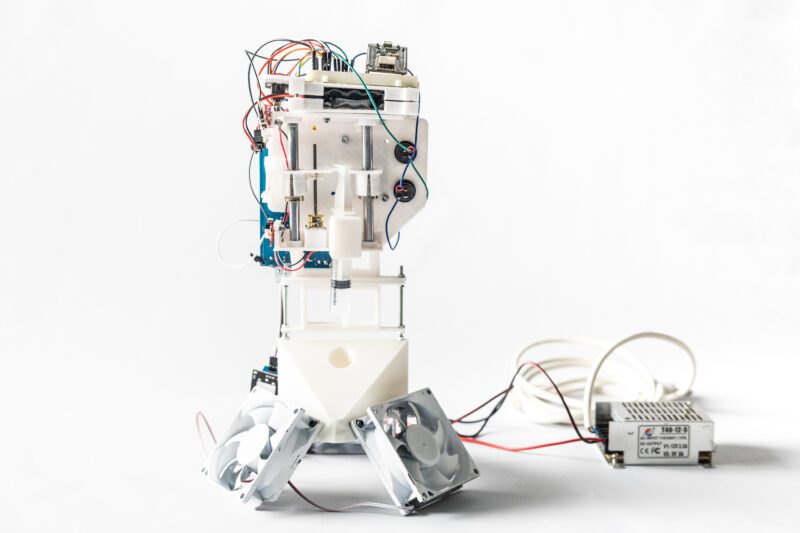 Diane Davis-Sikora
BeTA_S is a lightweight, deployable surface assembly based on the structural logics of biomechanical motion and flexural dynamics of the human spine. Its adaptable surface is self-stabilized with space-making and aeroponic farming capacities. The structure supports a variety of geometric configurations designed to adapt to a diverse range of indoor applications. The surface proposes an alternate urban agricultural and adaptive reuse strategy for large volume structures that is modular, deployable, and light weight.
The pavilion consists of 7 CNC knit textile bands (1'-6" x 18'-0" each) with integrated pockets designed to hold a linear array of tetrahedron modules in place at their vertices. Each tetrahedron module is formed from precut fiberglass rods with custom 3D printed connectors. The pockets located at the edges of the knit textile bands include an integrated elastic loop that connects each textile strip to its adjoining neighbor by looping. The surface is designed as a double layer system (3 inner and 4 outer rows), with each looping connection stabilizing the vertex of 3 distinct tetrahedrons. When all vertices are looped together, the system creates a stable, yet structurally 'soft' surface with slight vibrational movement when touched. Paralleling biotensegrity systems, the BeTA_S surface is composed of a collection of discontinuous floating elements held in tension by a continuous tensioning network.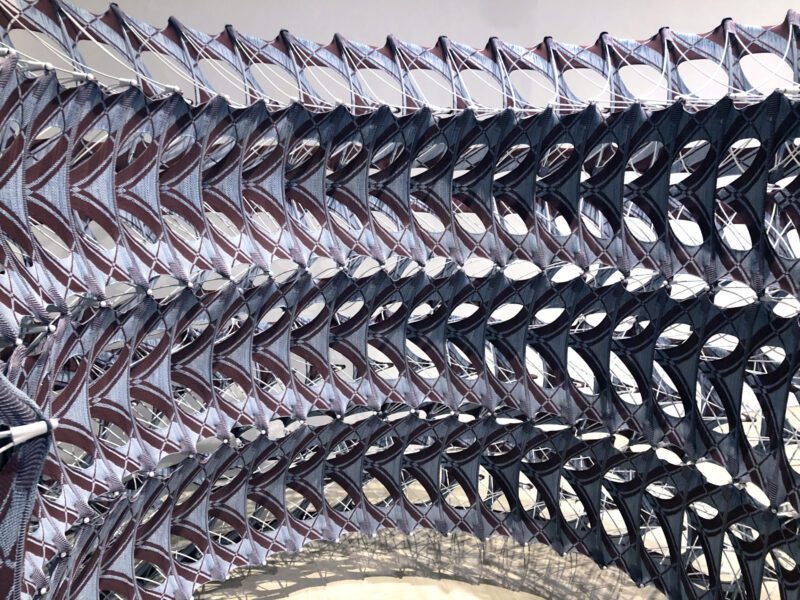 Linden Gledhill
Linden Gledhill is an artist whose work delves into the beauty of the physical world through various image scales and fragments of time. Drawing from his background in science, Linden utilizes advanced microscopy and high-speed equipment to capture stunning, unexpected imagery that showcases the wonders that surround us.
With a passion for photography, Linden has collaborated with numerous artists and designers to create promotional artwork and effective advertising campaigns. His work has graced a wide range of products, including books, snowboards, record sleeves, promotional videos, and apparel. Corporate clients such as ExxonMobil, GMC, Canon, British Telecom, and musicians like Ryan Teague and Jon Hopkins have all enlisted Linden's expertise to bring their projects to life.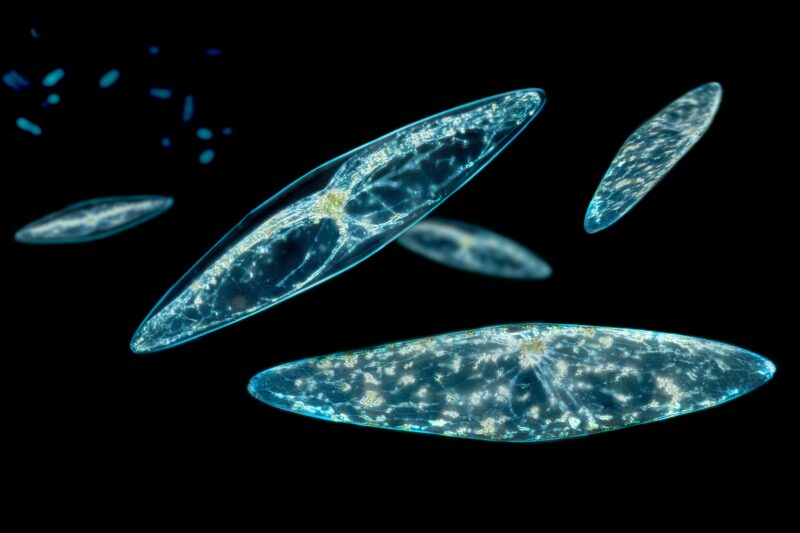 Kasumi
Kasumi's work is about memory and the echo chambers of memory – a perpetual feedback loop of patterns that creates consciousness.
Kasumi uses the symbols, images, and gestures that encode meaning and form the units from which we tell our stories, and that paradoxically both limit and expand human possibility.
Kasumi uses contemporary and developing technology to alchemize physical materials, digital media, and live performance into works of art. Her work is driven by her interest in conceptualizing the movements, expressions and gestures from which we construct our current reality.
The staggering range of her methods and media is evidenced not just by her awards – including the prestigious Guggenheim Fellowship – but also by the works themselves: from prints and collage to films and video art installations at the Rocket Mortgage Field House; at Lincoln Center with The New York Philharmonic and Carnegie Hall; performances with Grandmaster Flash and DJ Spooky; public art at The Cleveland Museum of Art, DC Tower, Vienna, and Teatro Colón, Buenos Aires; VR 360, post-production, and gifs for The Eric Andre Show; and interactive art-making apps for iPhone and Android. Her most recent work Surfacing was developed at The Cleveland Museum of Art and expanded into a one person exhibition for The Sculpture Center.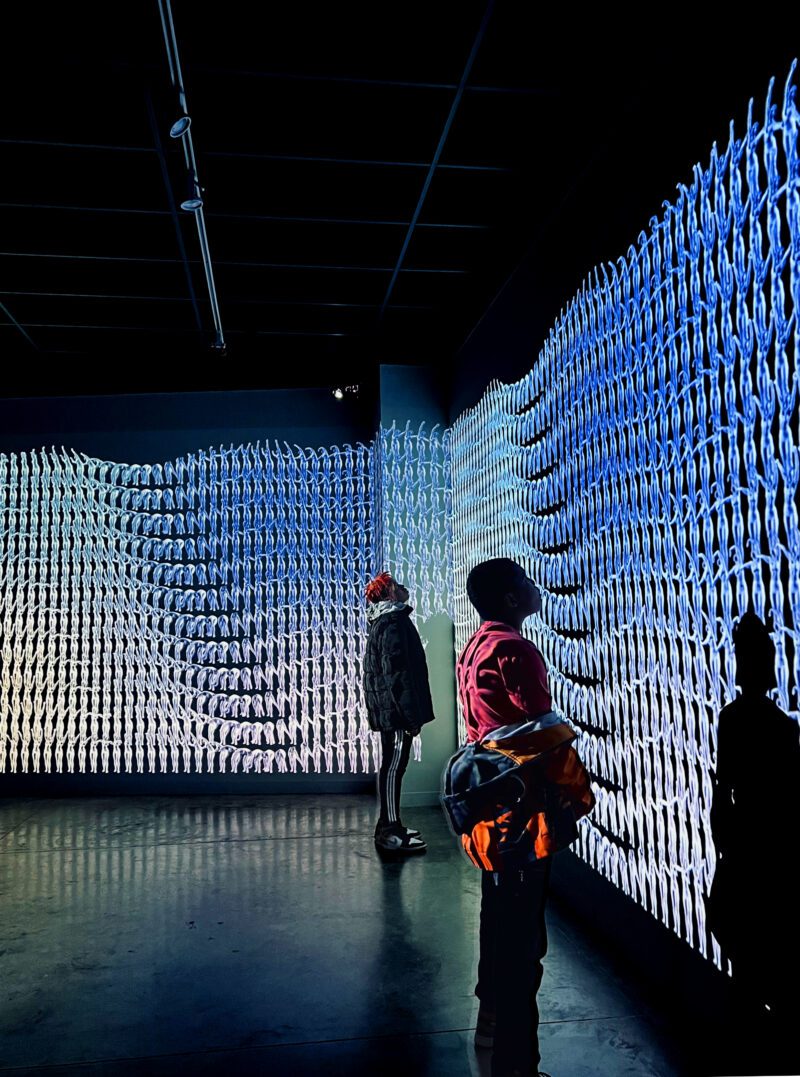 Kyoung Hee Kim
Kyoung Hee Kim is a Professor of Architecture and a Director of the Integrated Design Research Lab (IDRL) at UNC Charlotte. S She is the founder of EcoClosure, a climate tech venture specializing in nature-based solutions for carbon-neutral practices. Kyoung Hee has more than 15 years of experience in the design, engineering, full-scale prototyping, performance validation, and construction of high-performance building enclosures. Her federally funded projects include regenerative enclosure systems as well as smart cities and green buildings. As a practicing architect, she has worked on a variety of residential, commercial, and institutional projects that integrate high-performance building systems for both new construction and retrofitting applications. Kyoung Hee received her Master of Architecture, Master of Science, and PhD in Architecture from the University of Michigan in Ann Arbor.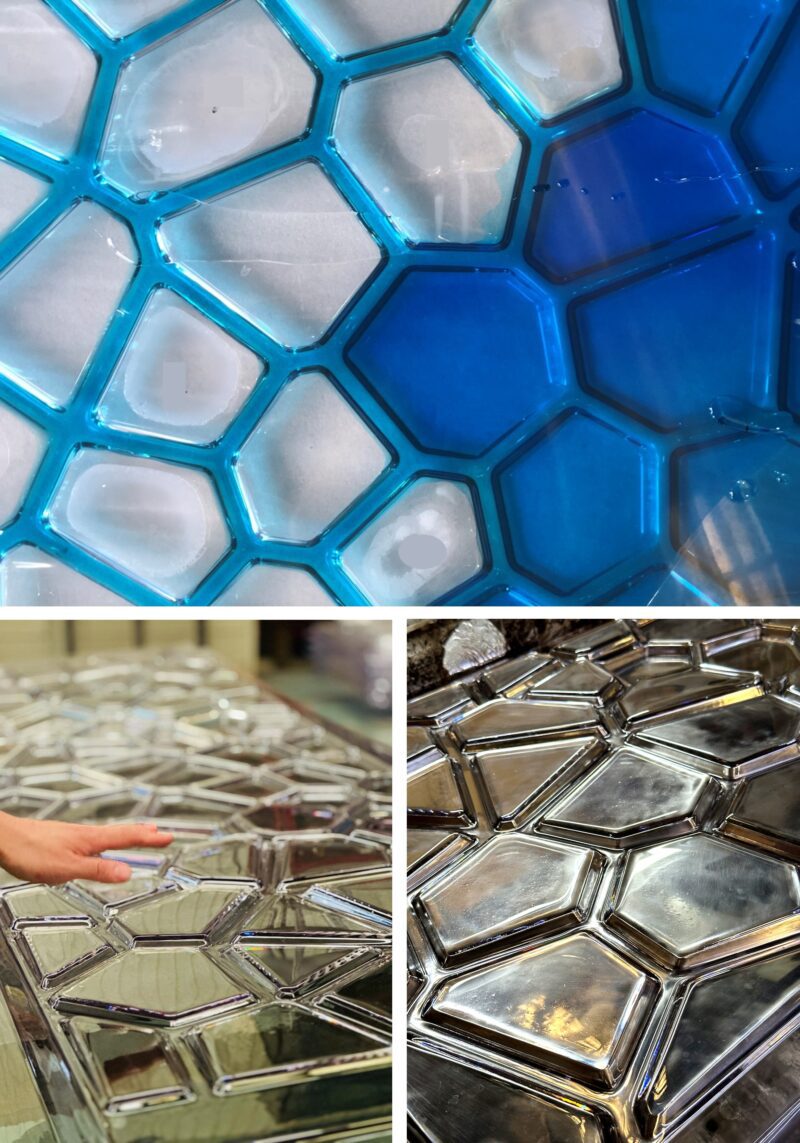 Sherry Simms
Sherry Simms is an Associate Professor of Art and the Coordinator of the
Metalsmithing and Jewelry area at the University of Akron's Myers School of Art.
Previously she taught in the metals programs at the State University of New York in
New Paltz, and at The University of Oregon in Eugene. Simms holds an MFA in
Metalsmithing from the State University of New York at New Paltz and a BFA from
The University of Akron. Simms' artwork has been widely exhibited and has been
published in both American Craft and Metalsmith magazines, and a variety of other
art publications. She is the recipient of numerous grants and awards, which include:
a Knight Art Challenge Grant, three Ohio Arts Council Individual Artist Fellowships;
and a 2017 University of Akron Summer Research Fellowship. Simms has exhibited
her artwork in group and solo exhibitions for more than twenty years. Recent
exhibitions include: Heavy Metal at the Akron Art Museum, Reflections;
Transparencies at the Box Gallery in Akron, Ohio; and Bead at the Greater Reston
Art Center in Reston, Virginia.
Simms is a mixed media artist who creates jewelry and sculptural objects that
challenge our cultural understanding of craft, jewelry and ornamentation. Much of
her research examines how ornamentation and pattern design draw inspiration
from nature. The work examples submitted are from the series Microforms
and Metacosims. These are inspired by microscopic images of nature and are
used in this form to decorate jewelry objects.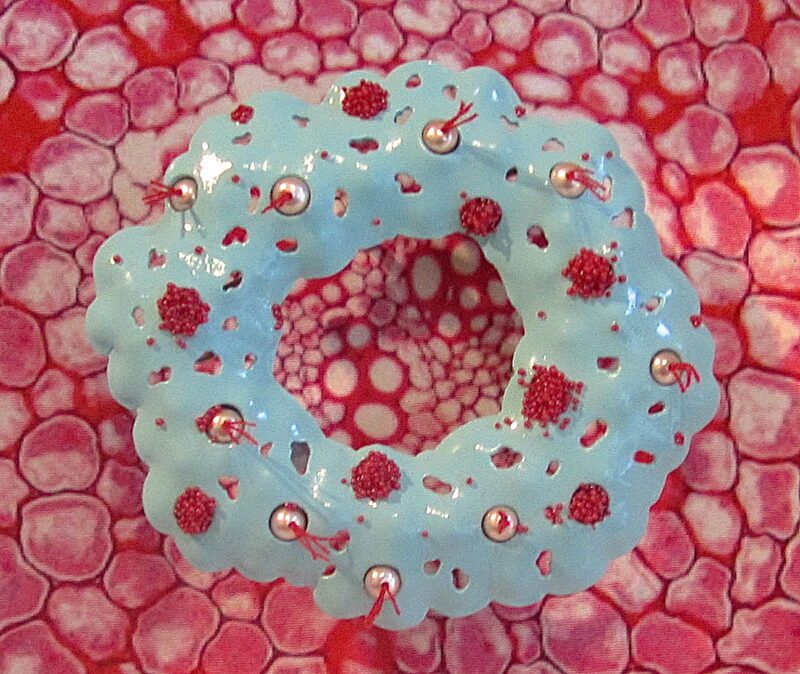 Laura Vinnedge
Laura Vinnedge received an MFA in Painting from The University of Notre Dame. She is an Associate Professor of Art at the Myers School of Art, The University of Akron where she has taught Painting and Drawing since 1999. Vinnedge has an extensive national and regional exhibition record, has work in several institutional and private collections, and has received numerous awards and recognition for her work – most recently, her second Ohio Arts Council Individual Artist Excellence Awards and the Summer Residency at Fine Arts Work Space, Provincetown, Massachusetts. In her current work Vinnedge questions the efficacy of a seemingly wholesale adoption of chemically enhanced living and the resulting impact on our environments and especially, our bodies.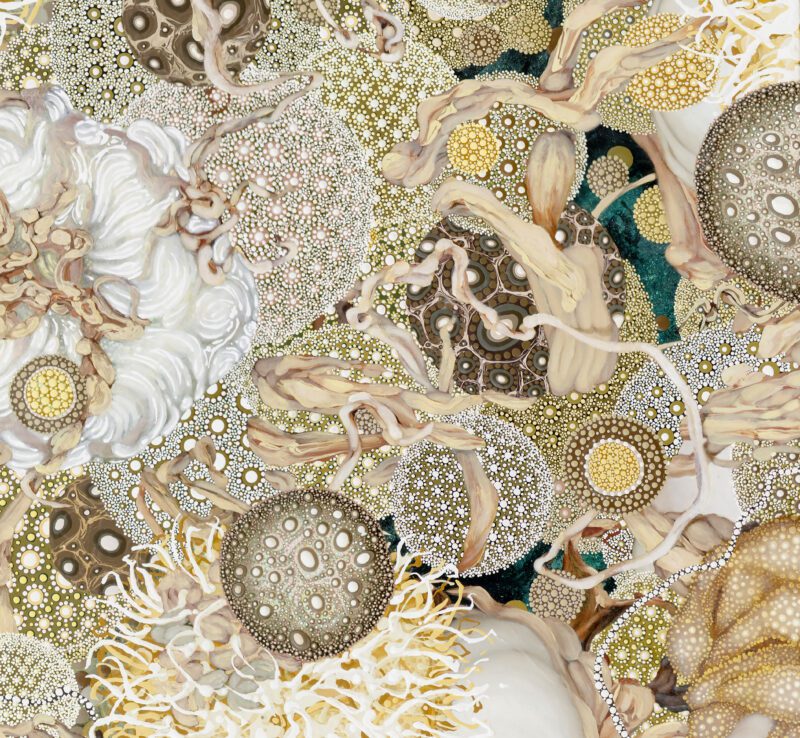 The skin of the saguaro cactus is covered with a thick waxy coating that waterproofs the plant and reduces water lost to the air through transpiration.
The spines and deep ribs cast shadows to protect from the hot sun.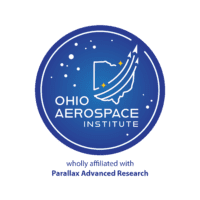 About the Ohio Aerospace Institute (OAI) and Great Lakes Biomimicry (GLB)
At OAI, we collaborate with members in government, industry, and academia to accelerate Ohio's aerospace workforce development through a global network of connections, educational programs, and cutting-edge information.
In 2021, Great Lakes Biomimicry became a part of the Ohio Aerospace Institute.  Our charge is to bring the solutions from biology to those seeking a new way to think about innovation in aerospace and beyond.
Organizers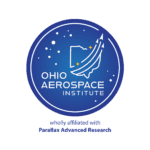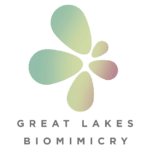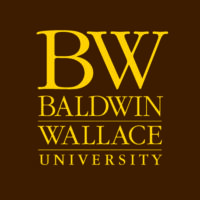 Educational Support